Across the nation, June is celebrated as Lesbian, Gay, Bisexual, Transgender and Queer (LGBTQ) Pride Month.  Pride UP – a celebration of the LGBTQ+ community – is back in 2022 the second weekend in June, Friday the 10th – Sunday the 12th in Ironwood, Michigan!
Friday, June 10th
Memorial walk and vigil in downtown Ironwood in honor of those lost and harmed by discrimination starting at 9pm in the downtown Ironwood City Square (101 W. Aurora St.) and proceeding to downtown Art Park half a block up Aurora St., hosted by Ironwood Youth GSA.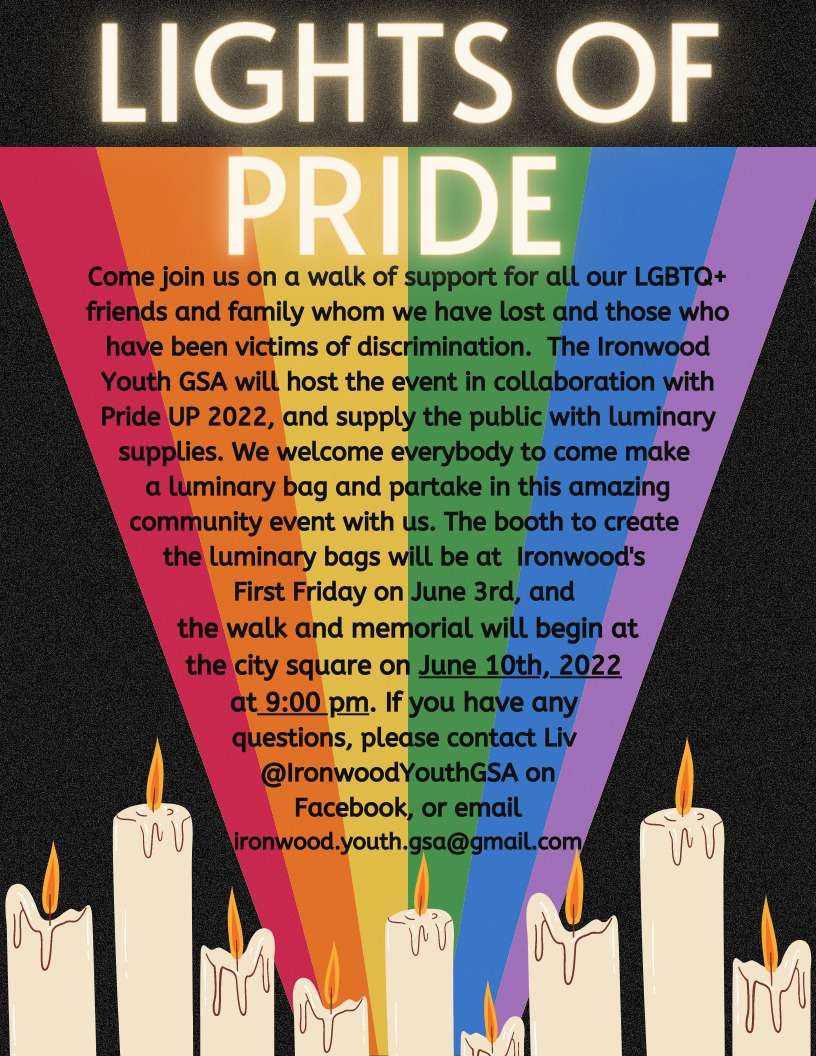 Saturday, June 11th
Pride Picnic in the Park from 12:30-4pm CST in the downtown Ironwood City Square (101 W. Aurora St.).  Enjoy a free community meal hosted by Don and GG's Food and Spirits and other sponsors, live music and art, and visit with vendors, community partners and resources.  If you are interested in participating as a vendor or community partner, please contact Rozina at rozinadee@gmail.com.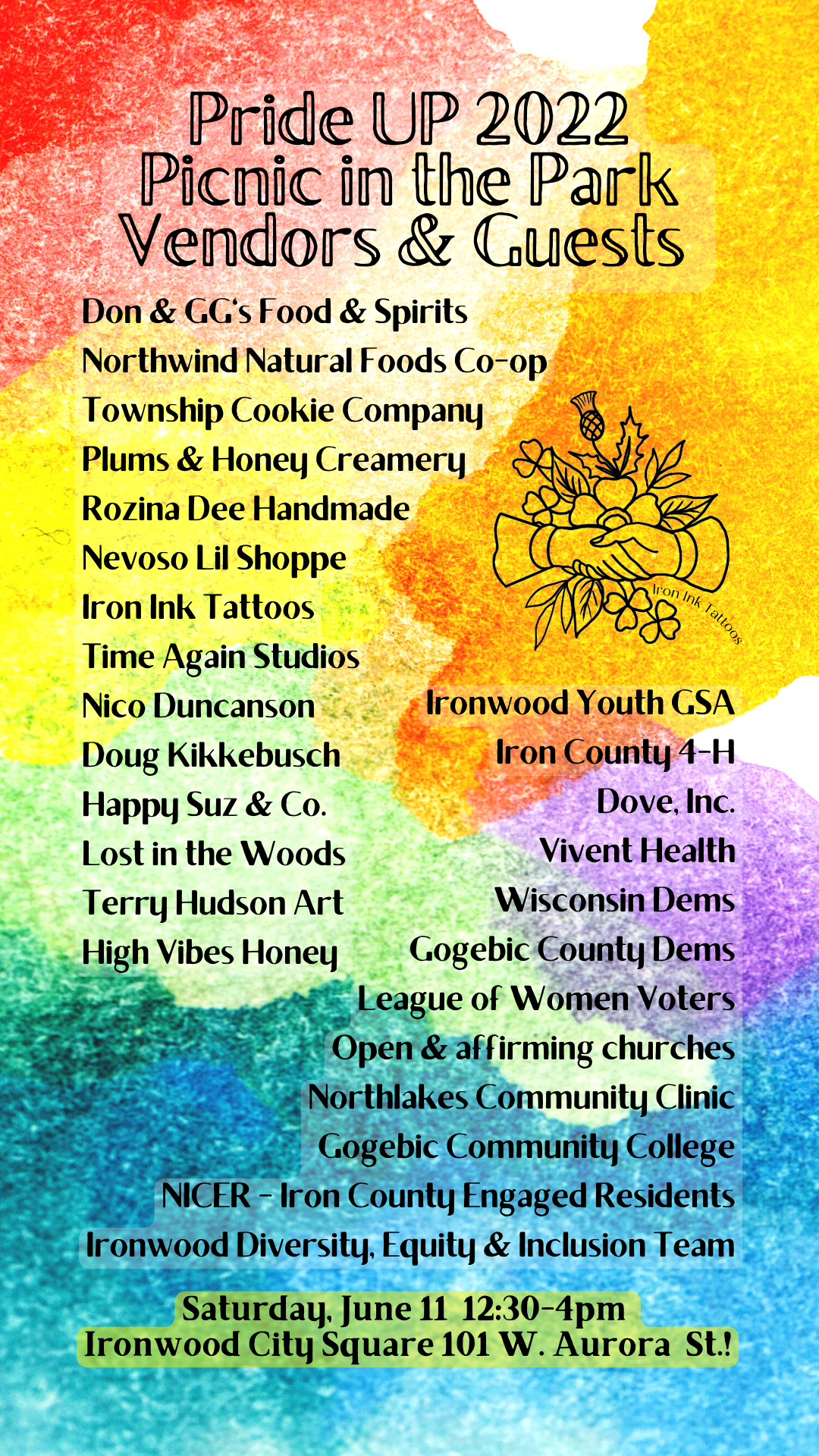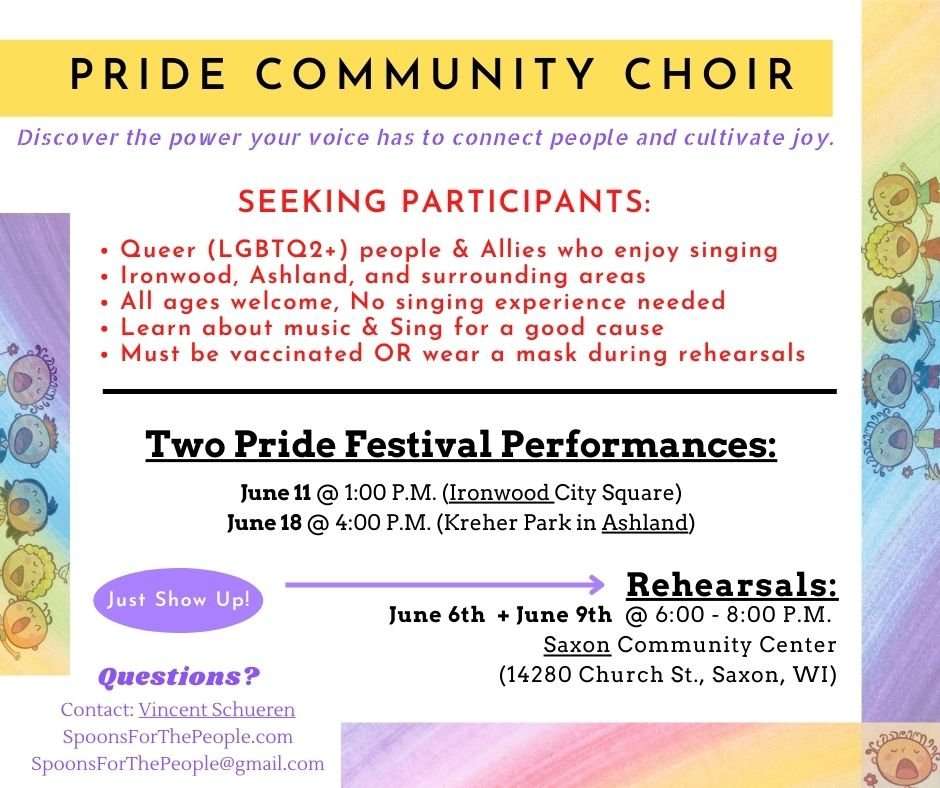 Chequamegon Bay Pride 2022 (Ashland Pride Festival Facebook Link)
In addition the the Pride Community Choir, the Pride UP 2022 Picnic in the Park will also feature SPOONSFOR, Chromabeats and Furillostar!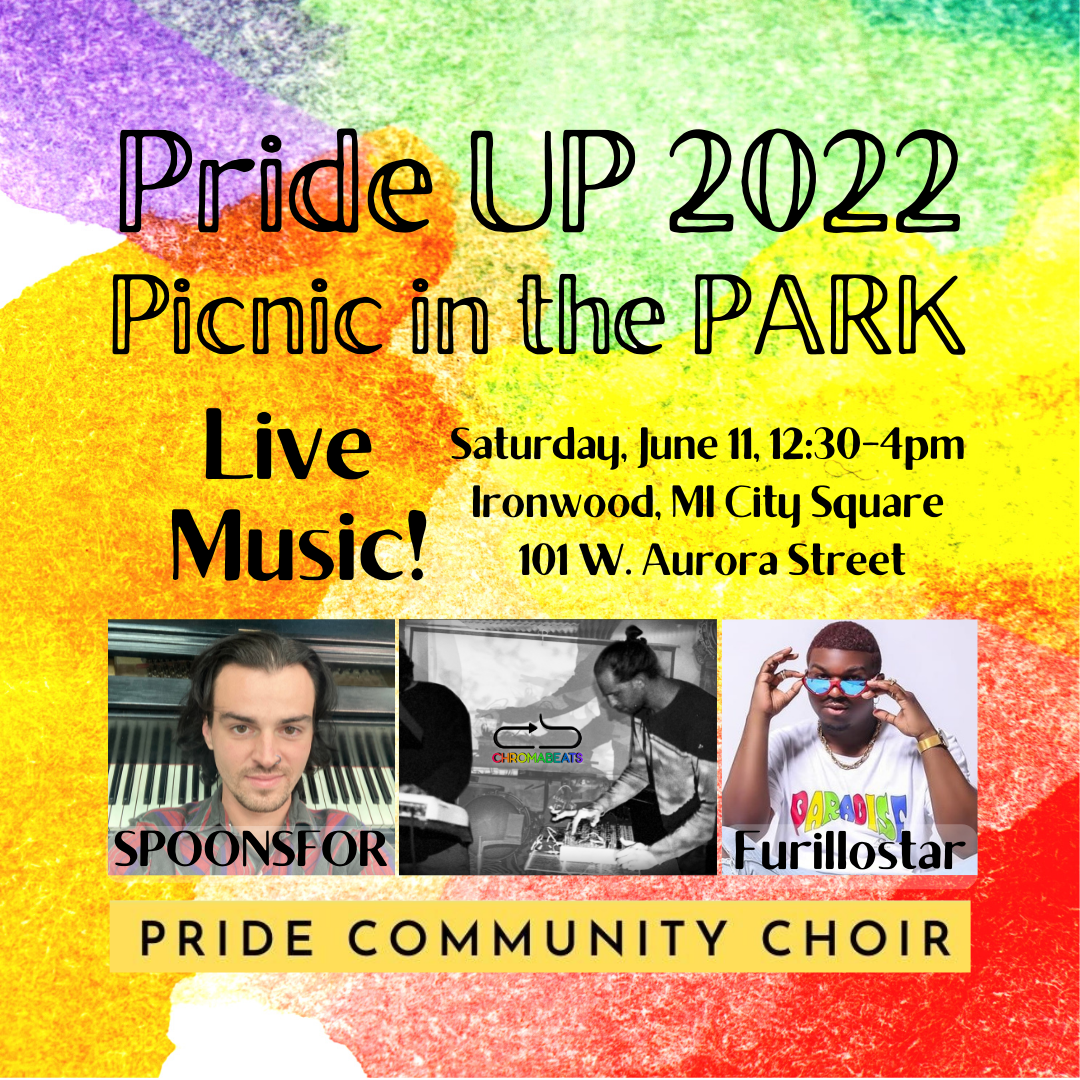 Don and GG's Food and Spirits (1300 E. Cloverland Drive, Ironwood) are again hosting a Pride After Party, Saturday, June 11th starting at 5pm!  Folks are welcome to attend and bring their musical talents along for the open mic.  Those interested in performing can please reach out via the Pride After Party Facebook event.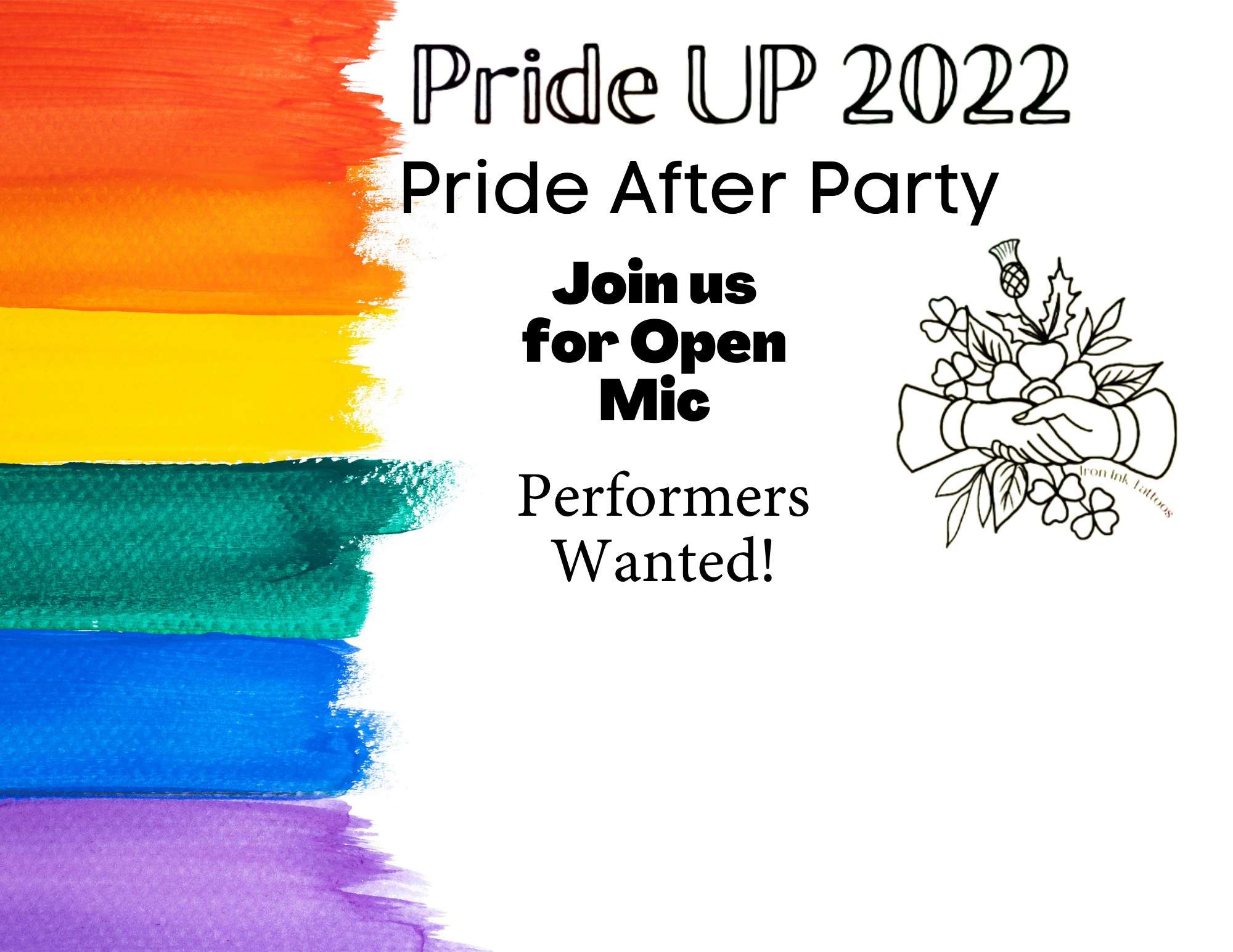 Sunday, June 12th
Home Body Yoga and Chromabeats will host free morning yoga with live music in the Historic Ironwood Depot Park, 9:30-11am CST.  All bodies welcome, drop in and out of this gentle practice as suits.
Pride UP 2022 is made possible by many neighbors, partners and friends who offer a variety of gifts, from event coordination and organization to in-kind and financial contributions.  THANK YOU!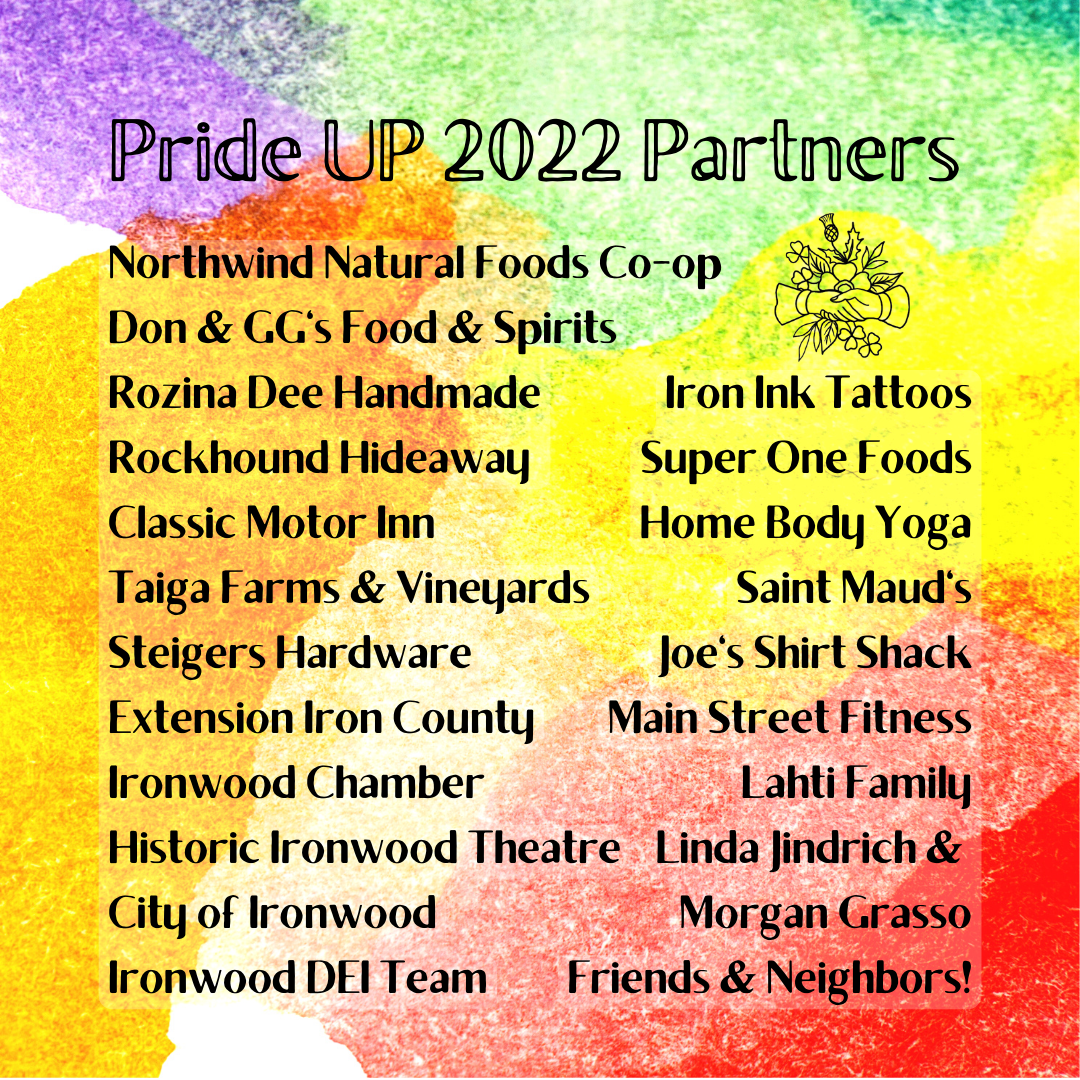 If you are interested in donating, sponsoring or volunteering, please reach out to Cathy from Northwind Natural Foods Co-op at 906.932.3547 or cathy@northwindcoop.org (click here for a PDF copy of the Pride UP 2022 Donation Form).  Donations are also being accepted online thanks to Rozina Dee Handmade.
Interested in learning more about Pride Month and LGBTQ+?  Check out the Pride UP 2022 Interview and Resource/Reflection Guide.