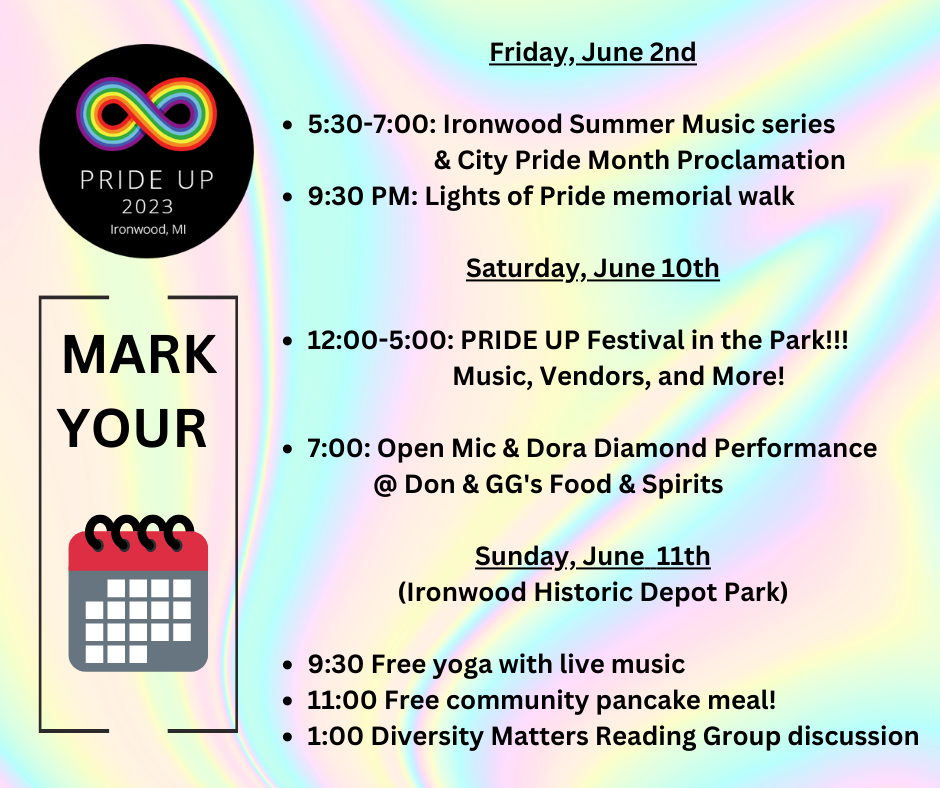 Pride UP is a family-friendly celebration of the beautiful Queer/LGBT+ community in Ironwood, MI and the surrounding areas.  Come frolic, reflect, connect, sing, and decorate yourself with YOUR true colors.  We join festivals across the nation that recognize June as Lesbian, Gay, Bisexual, Transgender and Queer (LGBTQ+) Pride Month.  See below for the detailed schedule of events!
FRIDAY, JUNE 2nd–Ironwood City Square (101 W. Aurora St.)
5:30-7:00, The first evening of the First Friday Ironwood Summer Music series held in the City Square, which will kick-off with a public reading of the City of Ironwood's 2023 proclamation recognizing June as Pride, Diversity and Inclusivity Month.
9:30, Lights of Pride memorial walk and vigil evening event hosted by Iron Range GSA!  Folks are invited to gather to participate in a brief, half-block walk to the Art Park where a few words and live music will be shared in honor of those lost and harmed by discrimination.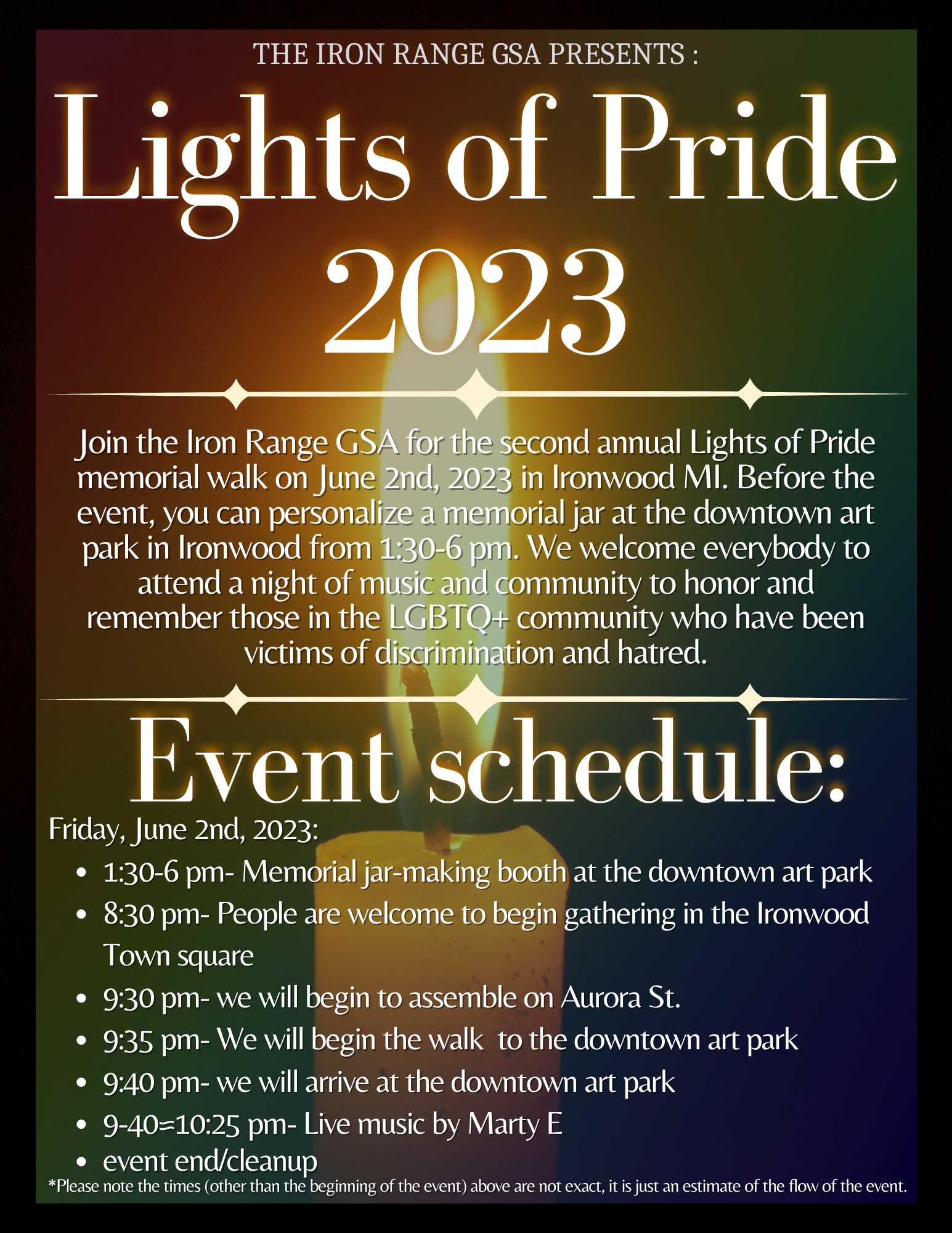 SATURDAY, JUNE 10–Ironwood City Square (101 W. Aurora St.)
12:00-5:00, PRIDE UP Festival in the Park!!!  Enjoy incredible live music and entertainment, beautiful artwork, and delicious food truck cuisine!  Visit with vendors, community partners and local resources who will have booths set up.  (If you are interested in participating as a vendor or community partner, please contact Cathy Flory at: cathy@northwindcoop.org.)
7:00, After Party at Don & GG's Food & Spirits (1300 E. Cloverland Dr.).  There will be an Open Mic (last year's was so much fun!) followed by a performance by the fabulous Dora Diamond.  Ages 18+, dancing encouraged!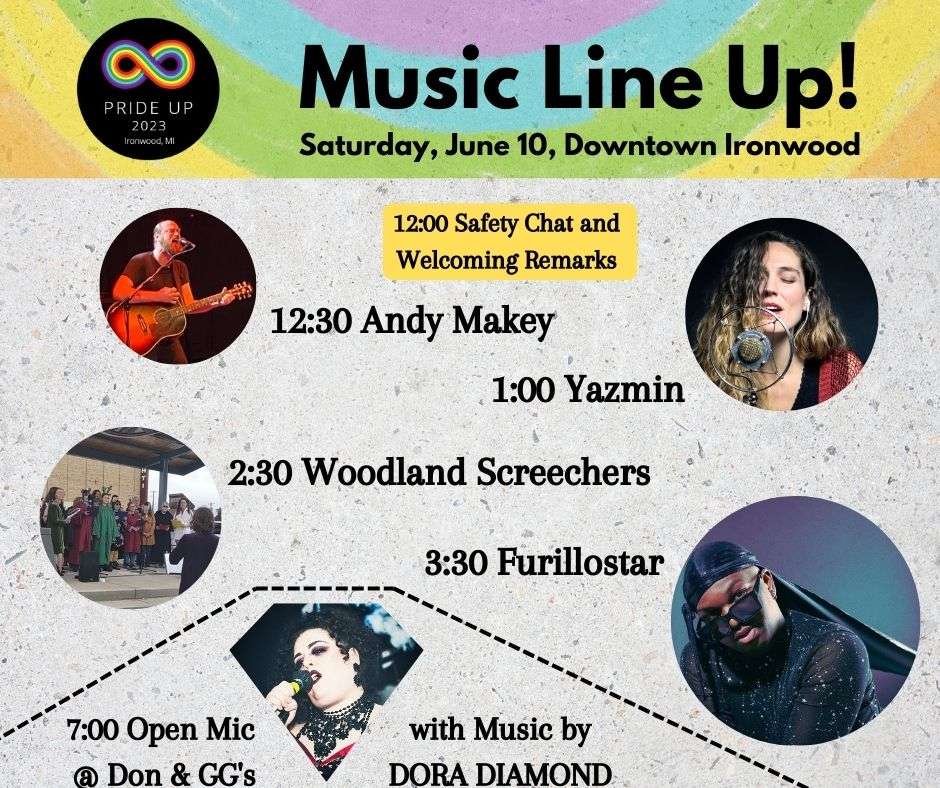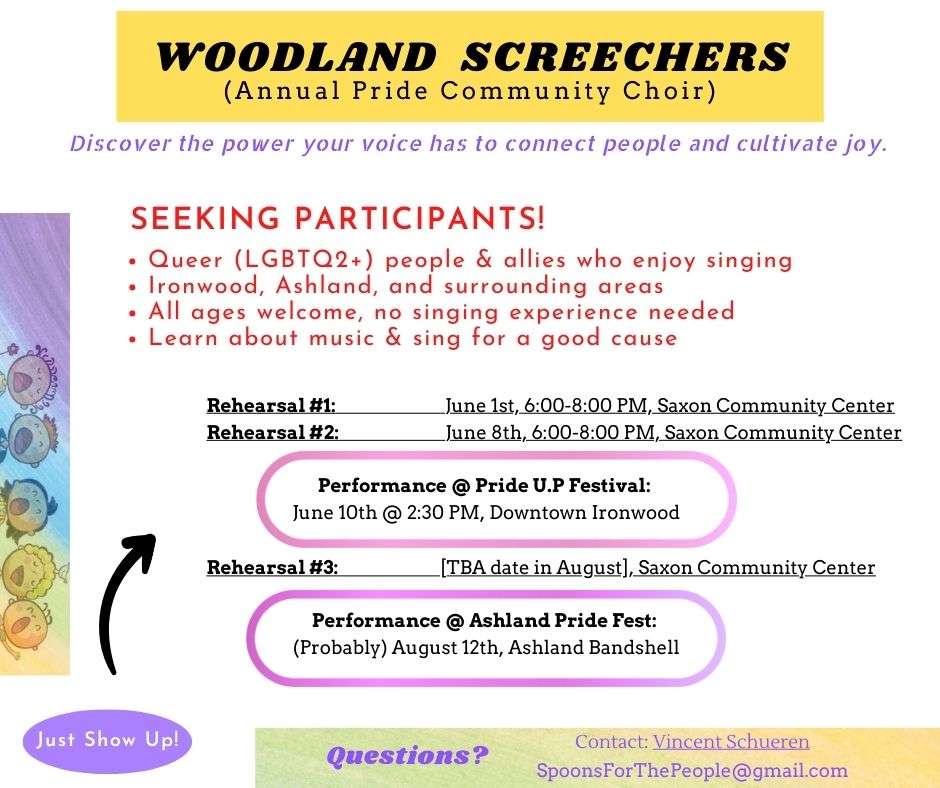 SUNDAY, JUNE 11–Ironwood Historic Depot Park (150 N. Lowell St.)
9:30-11:00, Free yoga and playful movement with live music by Graham Baldwin
11:00-1:00, Free community meal! (Pancakes, anyone???)
1:00-3:00, Book discussion of the novel The Guncle hosted by Ironwood's Diversity Matters Reading Group, Ironwood Carnegie Library and Ironwood Human Relations and Equity Committee.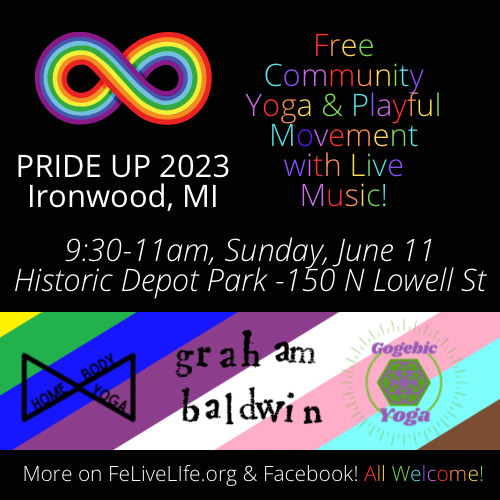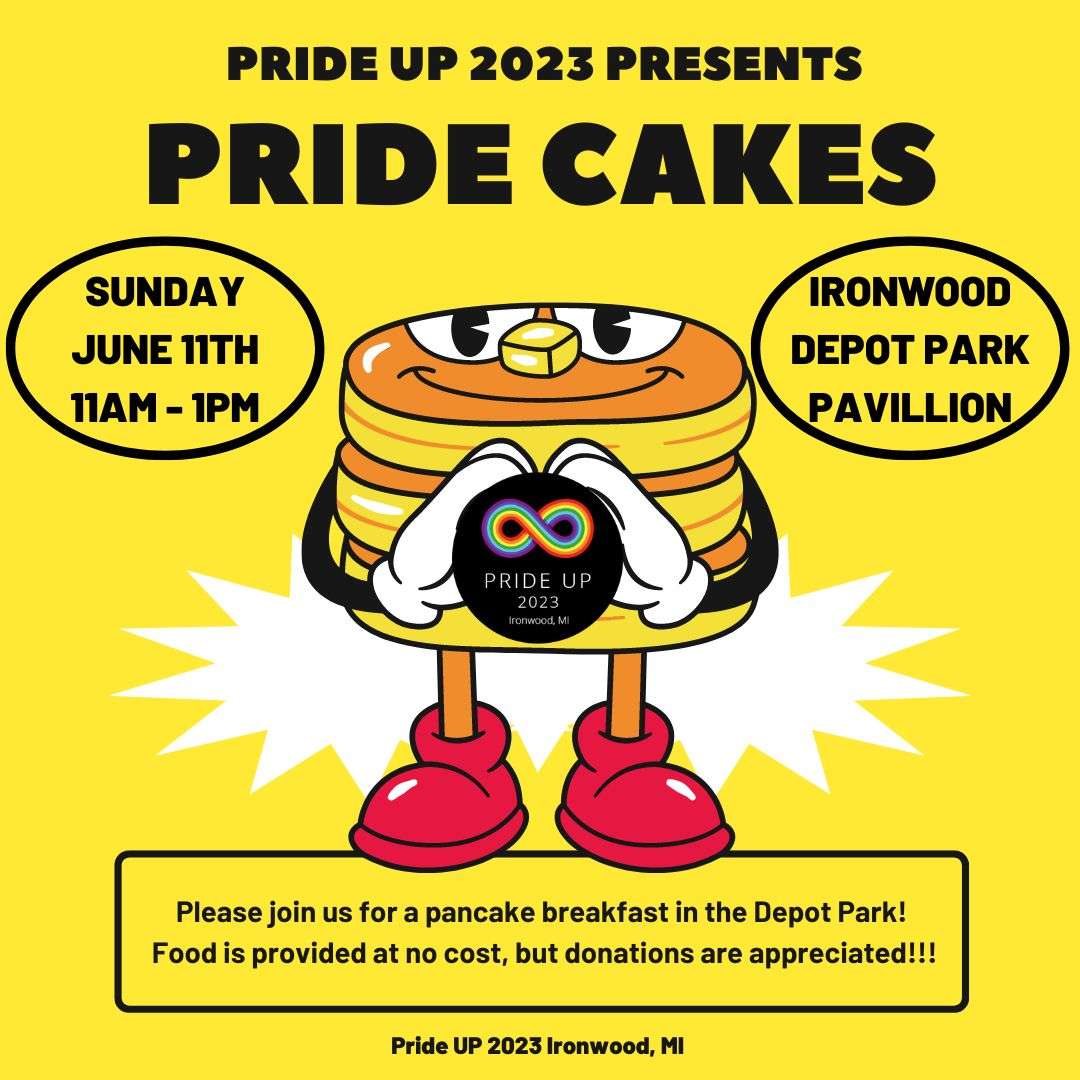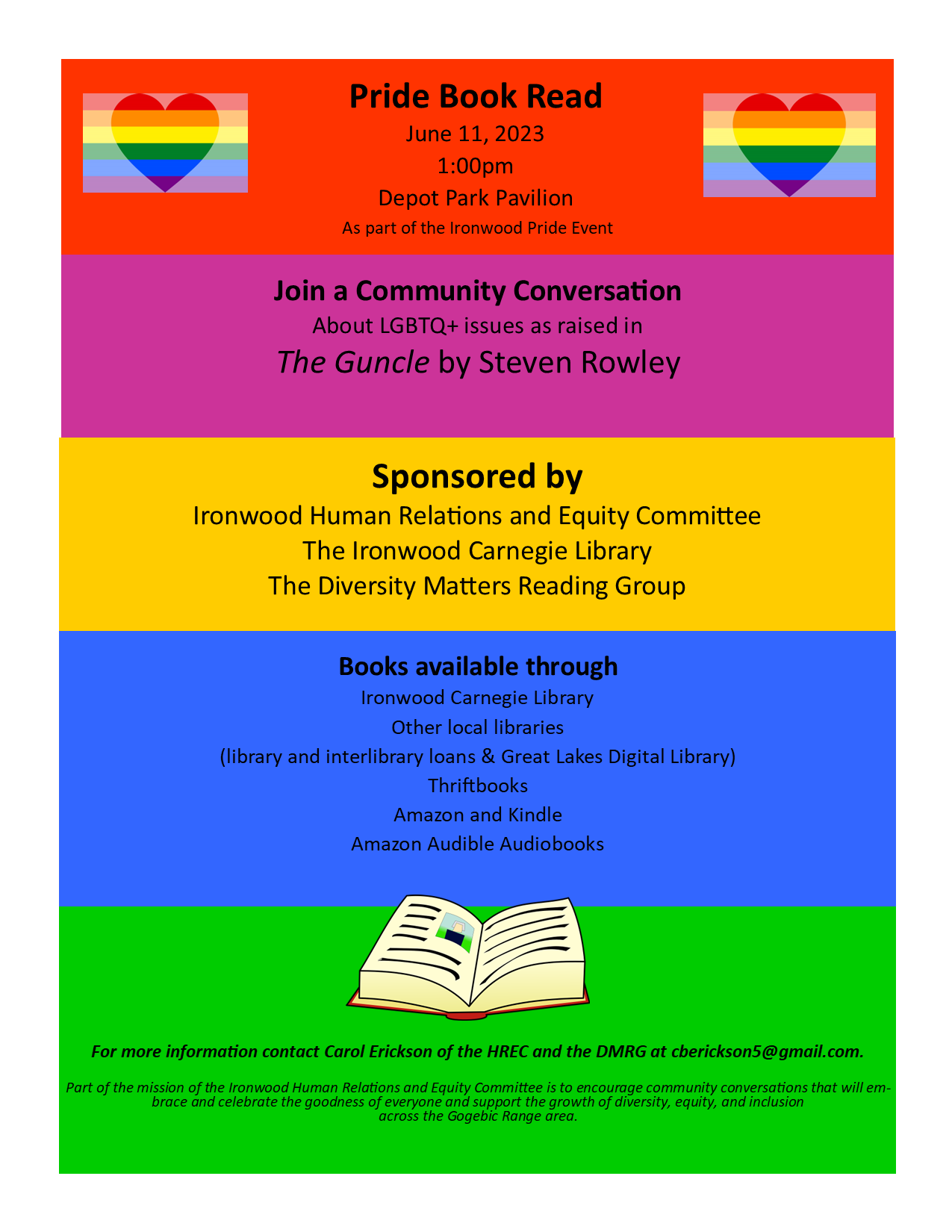 Interested in helping out with Pride UP 2023?  Pride UP is hosted by a group of local organizations and people, made possible by many neighbors, partners and friends.  Please review and fill out the Pride UP 2023 Sponsorship and Volunteer Form (2-page PDF) and return to Cathy at the Northwind Natural Foods Co-op (116 S. Suffolk St.).  Online donations can be made via Rozina Dee Handmade.
Interested to learn more?
View the City of Ironwood's Declaration of June 2023 as Pride Diversity & Inclusivity Month (2-page PDF)
Read the Bystander Empowerment @ Pride UP 2023 educational resource (2-page PDF)
Folks are also encouraged to read NPR's Guide to Gender Identity Terms (website link).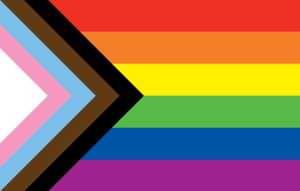 Have you seen this Pride Flag before?  Known as the Progress Flag, it was created in 2018 to bring greater attention to leadership of people of color and transpeople in moving social justice for all forward.  Click on the flag to learn more!
Check out the schedule of Pride 2023 events happening in the Ashland and Washburn, WI area:

Check out previous years' Ironwood Area Pride celebrations here: A History of Pride UP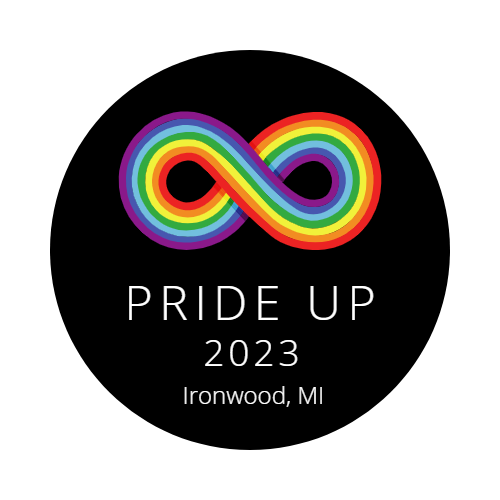 The Pride UP logo was designed by Iron Range GSA.