Show Times:
Saturday, Jul. 28, 2018 at 7:00 pm
Cost:
All General Admission seating. In advance: $17 Adults $5 Students. All adult tickets include a $2 historic preservation fee.
Aurora Nights will celebrate the Ironwood Theatre's 90th Anniversary. When it opened in the summer of 1928, the Ironwood Theatre offered silent movies, music, and  vaudevillle. Aurora Nights will offer a contemporary vaudeville-style variety show, featuring live music by local vocalists and musicians, dance, a short silent movie, and will feature illusionist "Special Head."
Danny "Special Head" Wolverton shocked the world when he miraculously levitated on America's Got Talent. Since AGT he has traveled extensively both in the USA and internationally. He can regularly be seen in Las Vegas at the MGM Grand.
Special Head is a musician, singer, magician, actor, comedian and story teller who combines many different art forms to create a profound experience. "I have many different tools in my tool box that help me create this unique experience – surprise and suspense and spectacle are crucial to my shows"
"Magic is just a word used to describe something we can't explain – there are many people who are longing for that magic and mysticism. I offer a performance that provokes thoughts and deep discussion of life's mysteries and potentials". Special Head hopes that through his performances he helps  bring the audience closer to understanding who they are.  He also hopes to inspire young people to believe that their true potential is unlocked through belief. "Just as in a magic show when one surrenders their disbelief, they have a much more enjoyable experience – if you believe in a greater purpose it gives you that added determination that gives you the extra edge needed to succeed."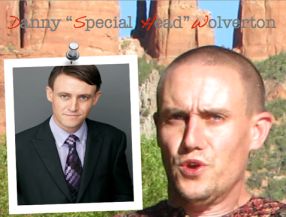 What people are saying about Special Head:
"Special Head" had one of the more memorable performances during the audition rounds of "America's Got Talent." The judges were impressed, giving Special Head a spot in the live shows in New York, and they weren't alone. Hollywood Life listed him as one of their top five acts from the episode." – Huffington Post
While his stage name is strange to say the least, this performer still wowed us with his insane levitation skills. Special Head defied gravity – and managed to levitate over burning candles! He was completely bent over backwards and parallel to his knees. Special Head clearly has something "special," and we wonder what he'll do next." – Avery Thompson, Hollywood Life.