Upcoming Events
December 2018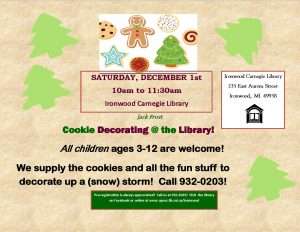 Children 3-12 are invited to join us for our cookie decorating morning, where we will have the cookies and all they wonderful goodies you could possibly want to create your own original work! A fun way to start the day of the Jack Frost Parade! Pre-registration is always appreciated...call 932-0203!
Find out more »
Christmas card charm in downtown Ironwood. Friends and family line the streets to witness the famous Jack Frost Festival of Light Parade. The spectacular festivity with floats, lights, businesses open late into the evening. Find out more at: http://www.ironwoodchamber.org/events/jack-frost The reading of a Christmas Story at Heritage Christian Book and Gift Store at 10:00 a.m. Jack Frost $10,000 raffle drawing at Chelsi's Corner from 2:00 - 3:00 p.m. Santa & Mrs. Clause at River Valley Bank from 3:00 - 5:00…
Find out more »
Christmas Shopping in Downtown Ironwood with holiday music and decorations throughout downtown. Have a bite to eat or a drink at your on of your favorite establishments before the much anticipated Claudettes Christmas show at the Historic Ironwood Theatre. Business open late.
Find out more »
+ Export Events